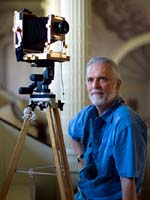 Paul Wainwright is a photographer based in Atkinson, New Hampshire, who works in a traditional manner utilizing sheet film, a large-format camera, and silver gelatin printing. His work has appeared in numerous juried competitions and solo exhibitions, and is included in the permanent collections of both private and corporate collectors, including Fidelity Investments and the Museum of Fine Arts, Houston. He is a mostly self-taught photographer who brings to his images an eye for space and light, subtle details, and an appreciation of history. Working with traditional photographic media such as 4x5 sheet film and silver gelatin paper processed in a wet darkroom, he achieves in his prints a sense of quiet contemplation that comes from the slow, Zen-like pace of creating his images.
"To understand the significance of the New England meetinghouse is to understand the power and the promise of the American Dream."

- Brent Glass, Director of the National Museum of American History at the Smithsonian
To view feedback from collectors, curators and gallery owners: click here.